Holiday Camps
at Emirates Riverside
Train at a world-class cricket ground and learn from an experienced coaching panel at our Summer Cricket Camps.
The camps take place at Emirates Durham Cricket Ground, home of Durham County Cricket Club. This is a fantastic opportunity for your children to play and train on the same field as the professional players and to get coaching from Durham Cricket Board's experienced coaching staff.
This year we have two courses available – Mini Jets Holiday Camps for children aged 5 to 8 and Junior Holiday Camps for participants between the ages of 8 and 13.
Both the Mini Jets and Junior Camps are three-day courses which run in the following weeks:
- WEEK 1 – 1st August – 3rd August
- WEEK 2 – 8th August – 10th August
- WEEK 3 – 22nd August – 24th August
JUNIOR HOLIDAY CAMPS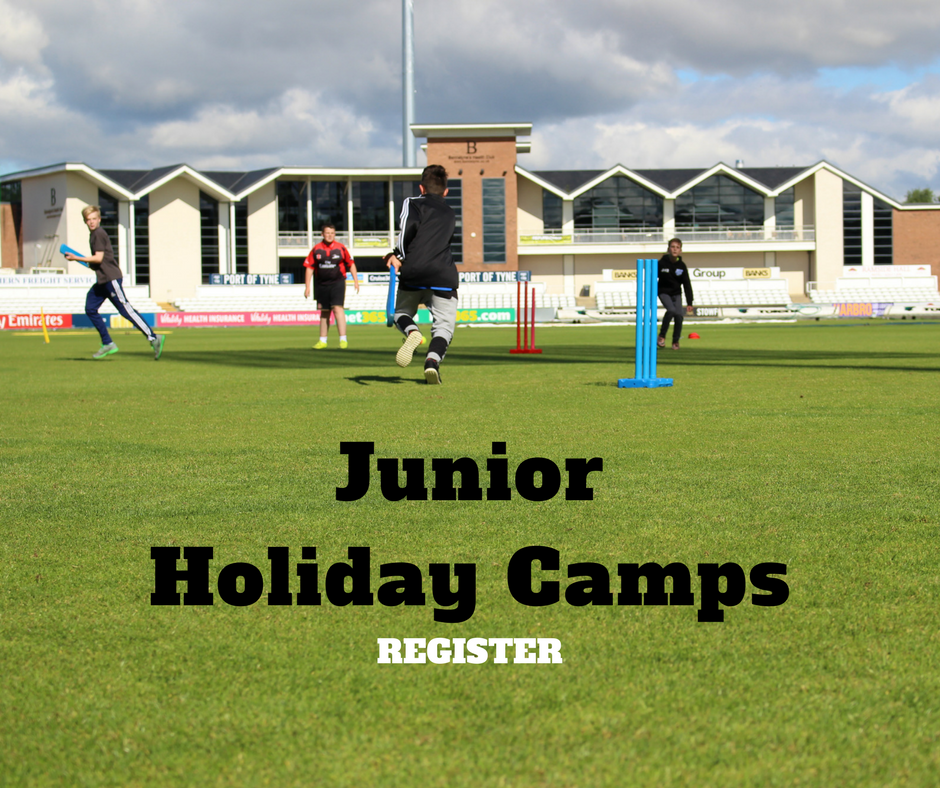 • Coaching for 8 to 13 year olds
• 3 Days coaching from 9.30am - 3.30pm
• Booking for individual days available
• 18 hours coaching
• Structured and enjoyable program to develop your skills
• Specialist skills sessions may include: nets, running between wickets, fielding skills, and devoted training sessions for fast and slow/spin bowling, wicket keeping and batting
*depending on group ability
BOOK HERE
- WEEK 1 BOOK
- WEEK 2 BOOK
- WEEK 3 BOOK
MINI JETS HOLIDAY CAMPS
This year we're launching an activity-packed three-day programme for the youngest cricketers. The course is suited for children aged five to eight and is a fun way to develop your child's movement skills.
Children will learn lots in a fun and safe environment and will get to meet Durham's mascot Chester the Lion.
Discounted price for All Stars Cricket participants and Mini Jets Members.
Coaching for 5 to 8 year olds
3 Days coaching with afternoon and morning sessions available
Morning session – 9.30am – 11.30am
Afternoon session – 1.30pm – 3.30pm
6 hours coaching
Structures and enjoyable programme suited to the age group and ability
BOOK HERE
- WEEK 1 BOOK
- WEEK 2 BOOK
- WEEK 3 BOOK
* Please note that children aged 8 can attend either the Mini Jets or the Junior Holiday Camp. We believe that parents can make the best choice for their child but if you need our advice on which course would suit your child best give us a call on 0191 387 2868